Real-Time Stock Market News & Analysis
FINRA Compliant Platforms
Live News Feed and Forum
Get all the latest breaking stock market news, up to the minute market commentary, curated and filtered to ensure you get the most relevant stock news. We filter out the noise and provide you with real actionable context. Including:
Real-Time Breaking News With Context
Actionable Ideas & Running Commentary
Over 1,200 Real-Time News Updates Per Day
Earning Releases & Interpretation
Proprietary Research
Custom Filters & Emailed Alerts
Convenient Mobile App w/ Alerts
100% FINRA Compliant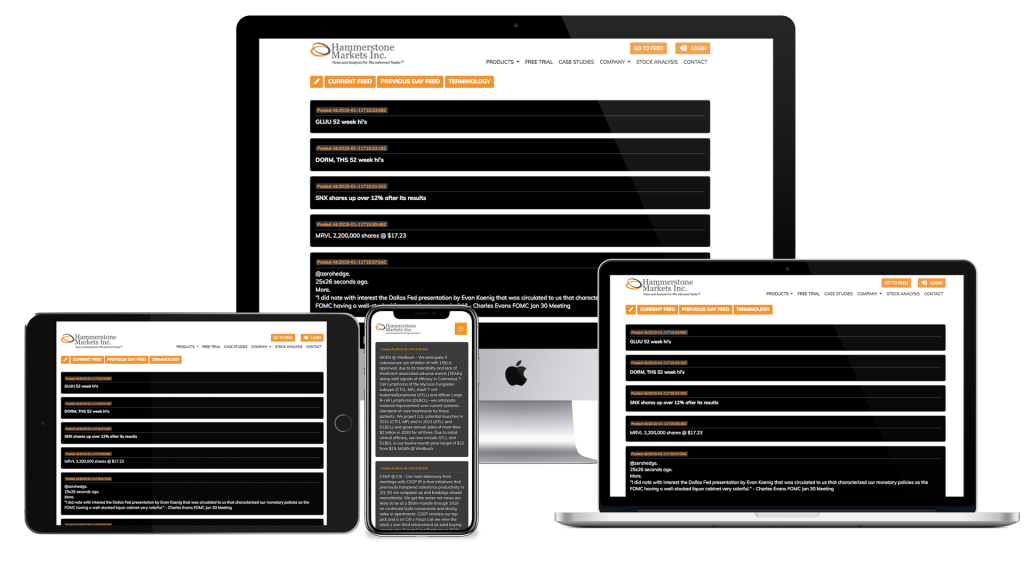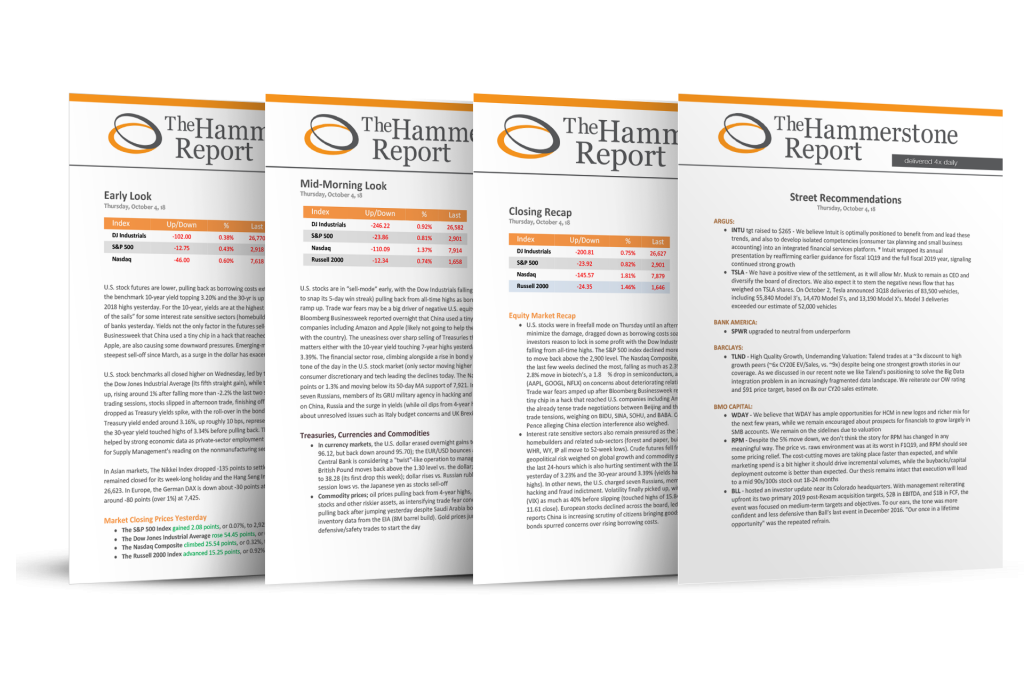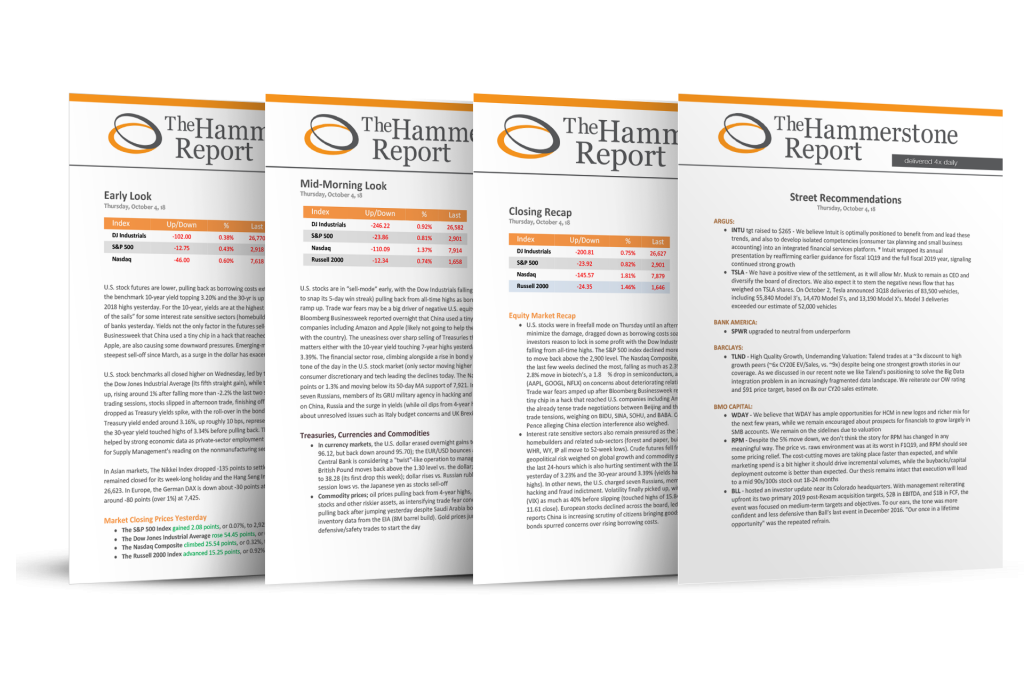 4x Daily Market Reports
Hammerstone Reports are expertly written daily updates sent 4 times per day directly to your inbox. These reports give you an in-depth analysis of earnings reports, street recommendations, economic data, sector news, market movers and more. Here are examples of the reports:
While They're Still Waiting For The Latest Stock Market News, You Could Have Already Executed The Trade… Get Started With Hammerstone Markets Today!
No obligations, no contracts, no credit card. Cancel at any time, 100% risk free.
Here's Yesterday's Market Sample Feed
Please Note: This Is A Delayed Example (without the Chat Room), Not The Live Feed.
Here's How MarketTalks™ Works:
Get Started with Hammerstone Markets
No obligations, no contracts, no credit card. Cancel at any time, 100% risk free.
Witness Hammerstone Markets In Action
CASE STUDY: $IBM
(International Business Machines, Co.)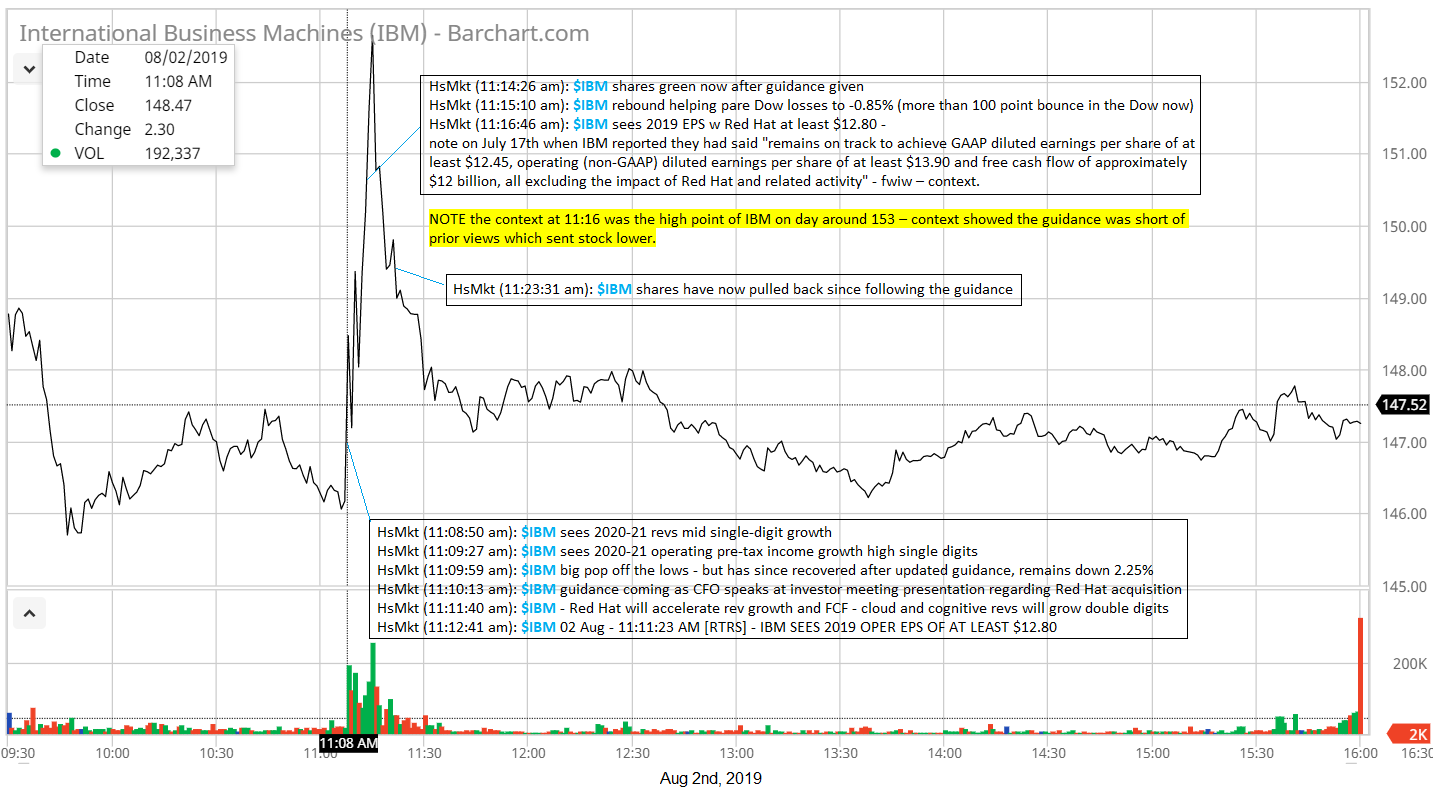 International Business Machines, Co. ($IBM)
Dow component IBM, hosting its investor meeting two weeks after reporting its quarterly earnings (7/17), provided guidance for 2021 for the first time of mid-single-digit revenue growth, which helped lift shares. However IBM also guided 2019 EPS of at least $12.80 with the Red Hat acquisition. While shares were still strong, Hammerstone noted that on its prior earnings call, IBM had said it "remains on track to achieve GAAP diluted earnings per share of at least $12.45, operating (non-GAAP) diluted earnings per share of at least $13.90 and free cash flow of approximately $12 billion, all excluding the impact of Red Hat and related activity". The company essentially lowered its guidance with the inclusion of the Red Hat deal, sending shares down from highs of $152 after initial comments back to the $147 level the remainder of the day. A good look that moved the stock over $5.00.
---

CASE STUDY: $WDAY
(Workday, Inc.)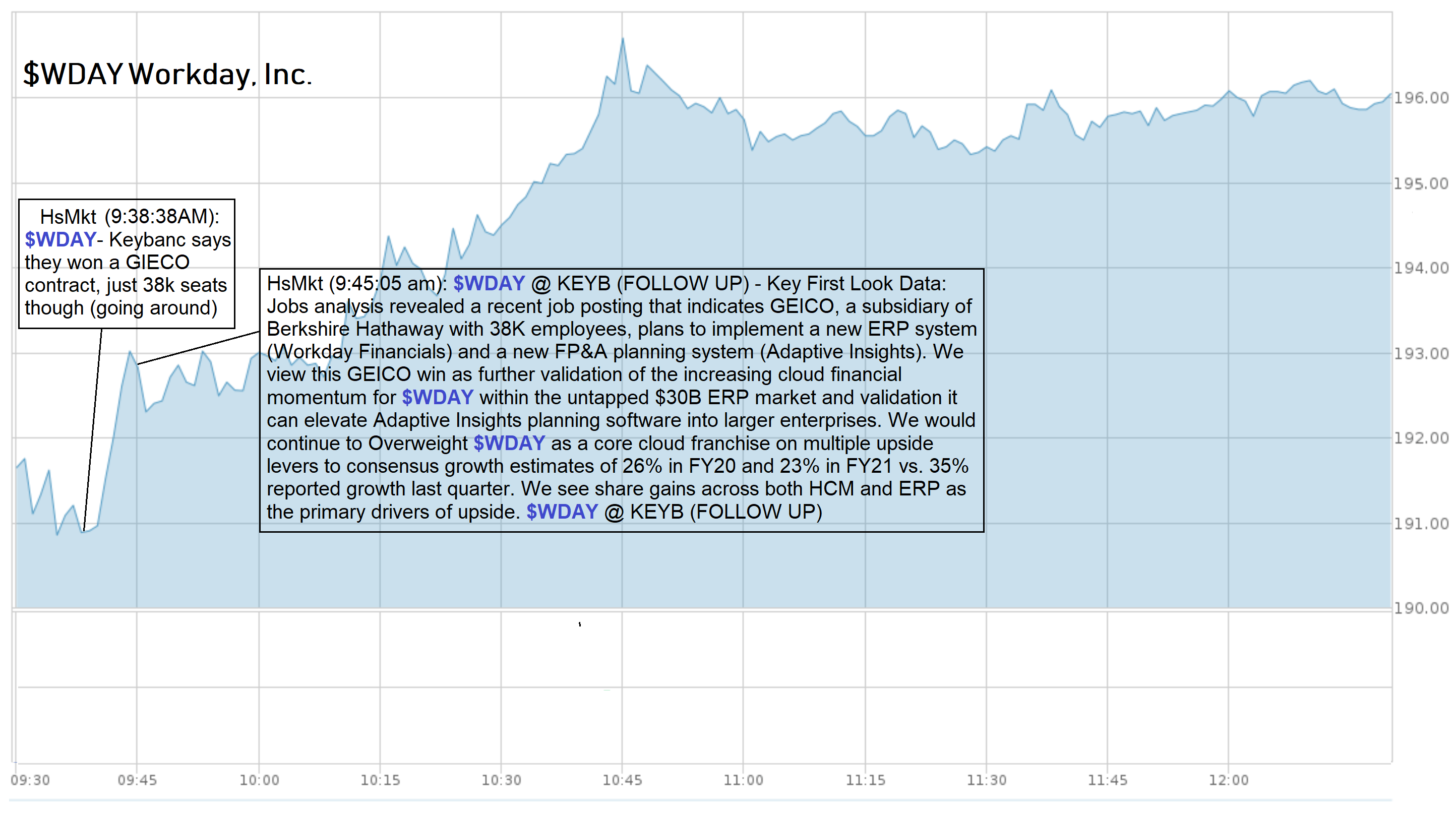 Workday, Inc. ($WDAY)
On April 10, 2019, after the markets opened, Keybanc Capital Markets published a note on, an ondemand financial management company, detailing how $WDAY had won a contract with Berkshire Hathaway's GEICO insurance division with the potential to spark big sales momentum in their cloud finance systems.
Through Hammerstone's many sources and contacts across Wall Street, we were alerted to the Piper $WDAY news immediately and disseminated it to our clients while $WDAY was still in negative territory, starting its rally seconds later. Additionally, Hammerstone was able to also provide its users with a summary of the $WDAY piece by Piper within 7 minutes. Later, at 10:45, Hammerstone noted that $WDAY had continued rallying, now up 2.6%, making new highs of the day (and, by chance, the actual high of the day), thus, making sure we kept our subscribers in the loop on a stock that was still moving significantly.
---

CASE STUDY: $IRTC
(Irhythm Technologies, Inc.)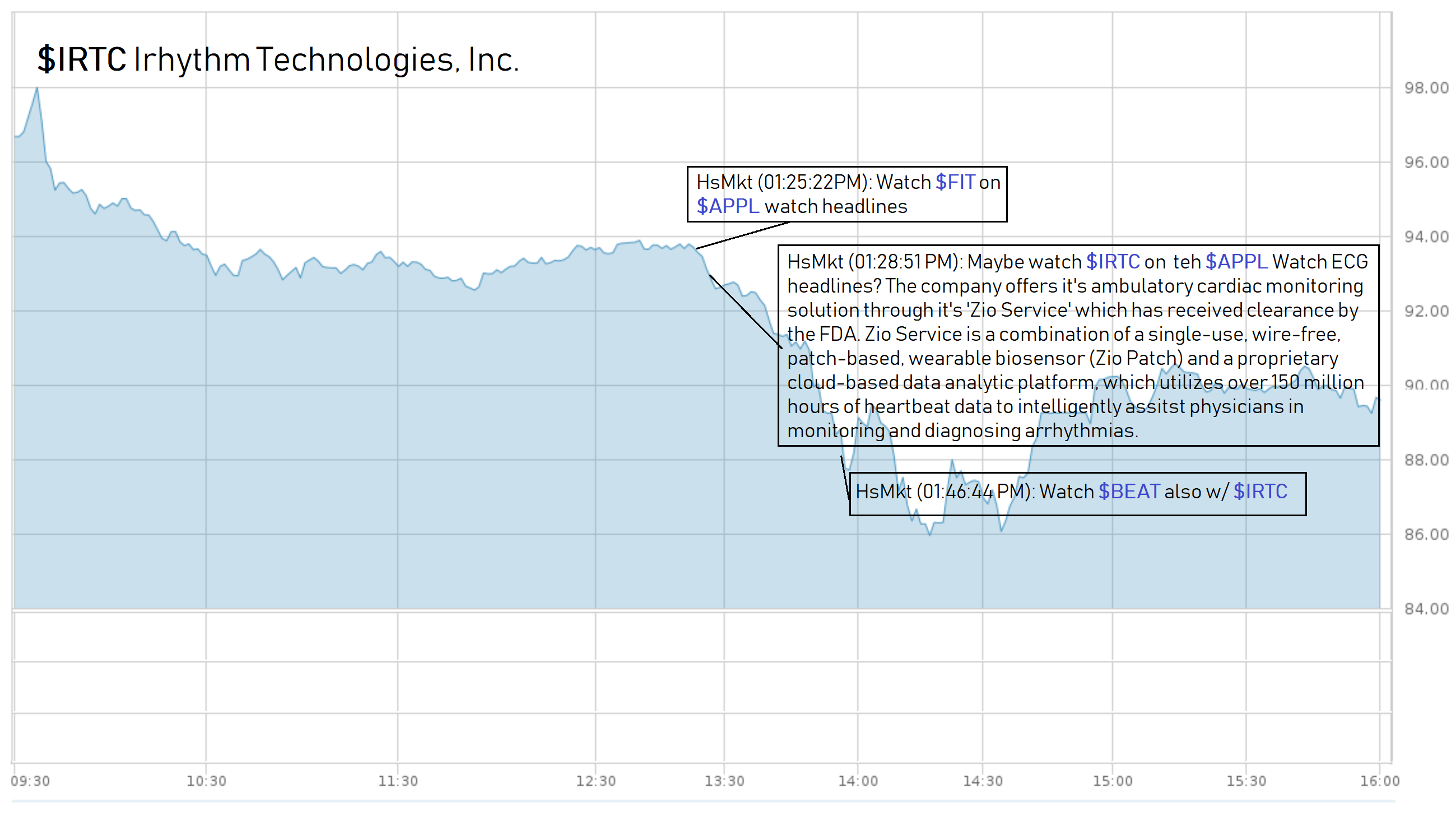 $IRTC (Irhythm Technologies, Inc.)– During an Apple, Inc. ($APPL) presentation, we noted early that $APPL was entering the digital health market, where $IRTC is the dominant player. Soon after, the stock preceded to move lower as more traders recognized the same theme we identified (Apple moving into the this sector was negative for them).
---

CASE STUDY: $SFLY
(Shutterfly, Inc.)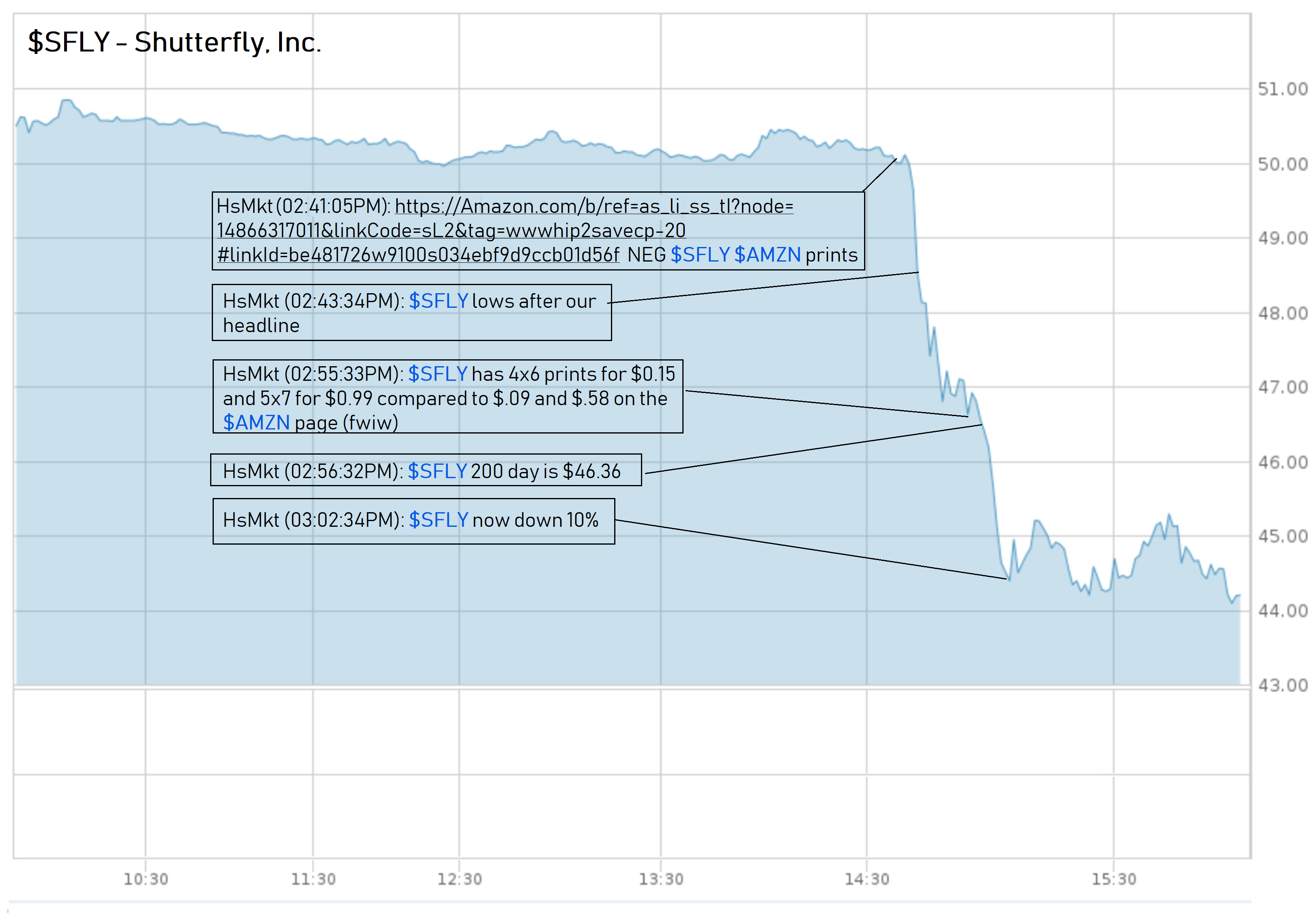 $SFLY (Shutterfly, Inc.)– Hammerstone was quick with analysis after Amazon had released a new product which would be direct a competitor to Shutterfly. After listing the Amazon price points on the product, we noted technical levels as $SFLY proceeded to drop 10%.
---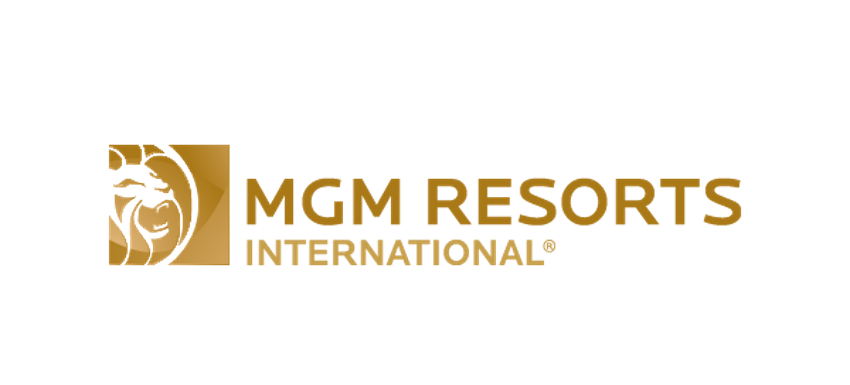 CASE STUDY: $MGM
(MGM Resorts)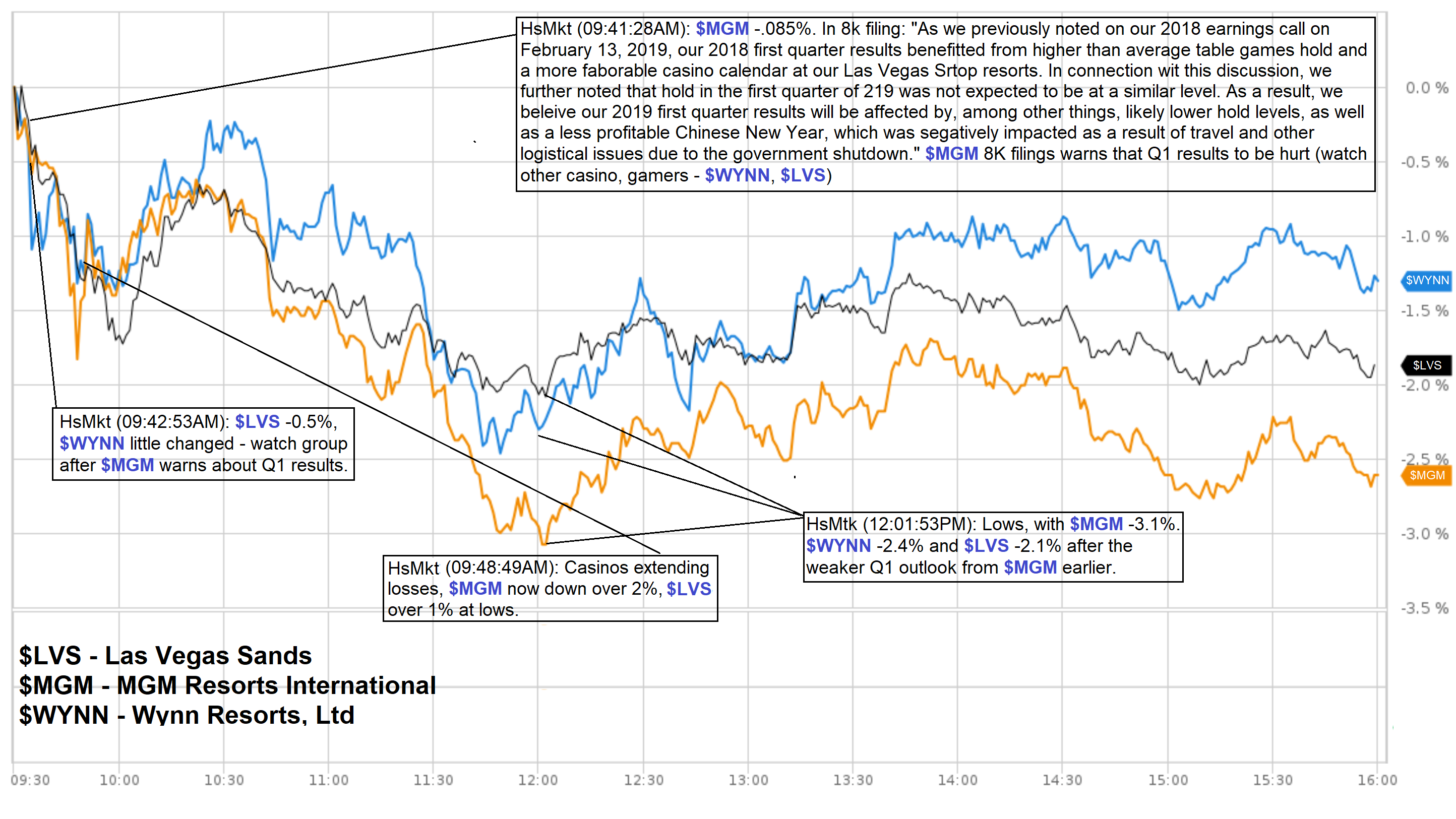 $MGM (MGM Resorts)On March 27, 2019 MGM Resorts International ($MGM) commenced an underwritten offering for $500 million of its senior notes. The offering's prospectus included a negative statement concerning $MGM's 1Q19 earnings. This information was also disclosed in a Form 8-K report filed with the SEC that morning.
At 9:41:28 am Hammerstone posted the $MGM Form 8-K's "forward looking" statement verbatim and added context by summarizing that "Q1 earnings will be hurt" and telling subscribers to watch MGM's competitors, Wynn Resorts Ltd. ($WYNN) and Las Vegas Sands Corp. ($LVS) additionally. Over the next 2 hours Hammerstone circles back to the 3 casino companies 3 times as they continued to sell off $MGM's weak Q1 outlook.
Hammerstone understands that a headline's repercussions do not end on its initial post. Financial news stories often continue to morph or grow on as the story is further disseminated across Wall Street and analysts, reporters or pundits comment on the story often affecting the price of the stock(s). If a story stock's price continues to move, Hammerstone's job is to make sure its subscribers are kept abreast of the fluctuations. We understand that new price levels can mean different things for different players. Whether they are starting/covering a short or initiating/exciting a long position, etc., Hammerstone will make sure our users do not miss a significant price point.
---

CASE STUDY: $CTSH
(Cognizant)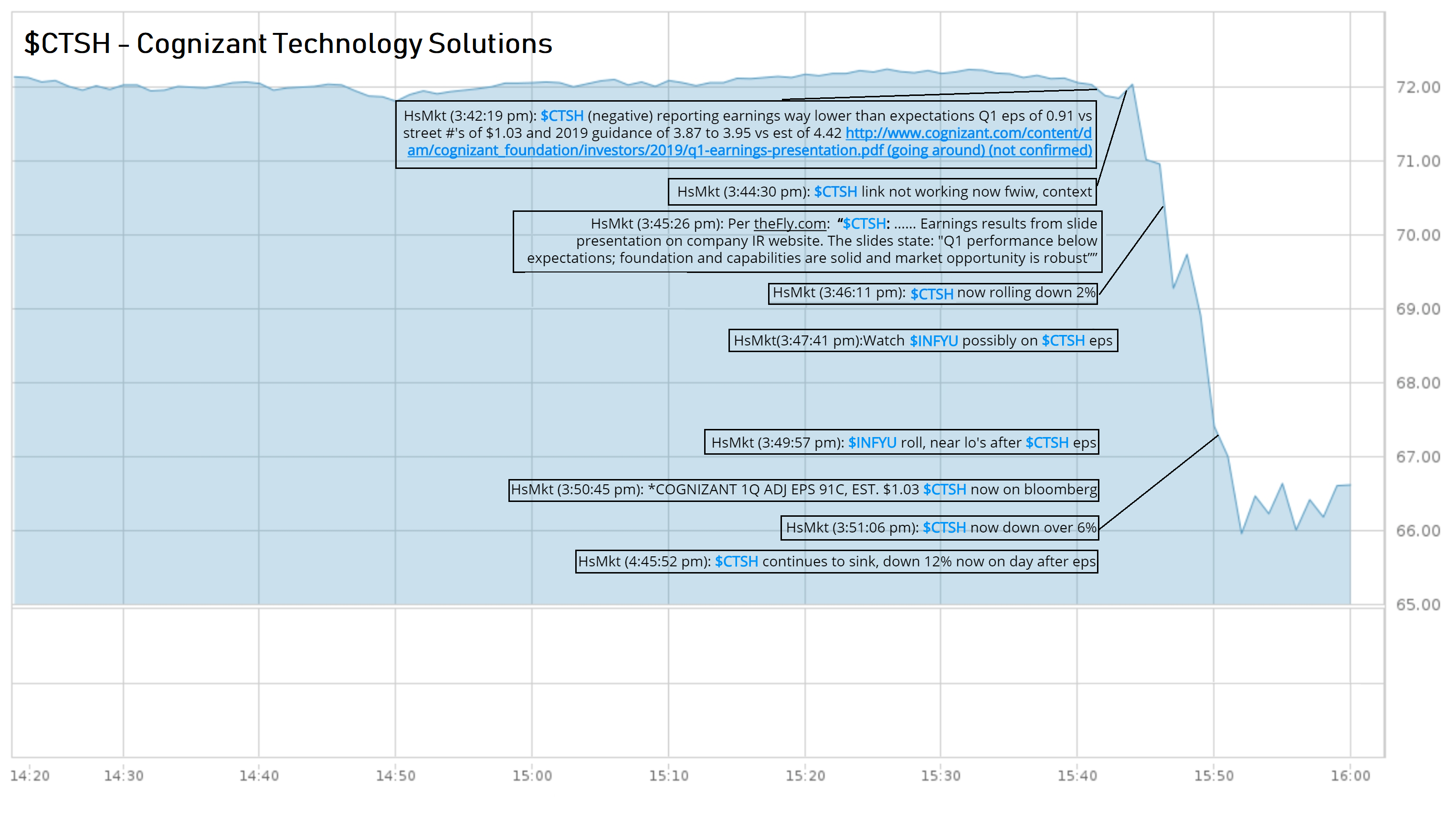 $CTSH (Cognizant)
On May 2, 2019, Cognizant Technology Solutions ($CTSH) was due to release their 1Q19 earnings after the market closed. However, 20 minutes prior to the close, $CTSH mistakenly posted their results on their website. Within seconds, the Hammerstone Markets team was alerted to the inadvertent release, and quickly moved to verify the posting on Cognizant's corporate website.
Our team confirmed the blunder and published a headline at 3:42:19pm (which included a link to the Cognizant earnings webpage).
Hammerstone swiftly added context noting that the earnings were "negative" and that the news originated from the Hammerstone community; "going around". Even though the results were clearly on the $CTSH website, the company had not commented on the early release "not confirmed".
2 minutes later at 3:44:30pm, with the stock still trading inline, Hammerstone added further color letting users know that the link to the $CTSH webpage was not working.
At 3:45, $CTSH began to rapidly sell off.
From 3:46 to 3:53 Hammerstone continued to provide more color on the $CTSH sell off: letting subscribers know the deepening percentage drops, and as another company that was selling off in unison with $CTSH.
On the following day, May 3rd, Hammerstone continued its coverage of Cognizant's earnings problems including summaries of the 9 reports by sell side analysts downgrading $CTSH.
Hammerstone Markets does not circulate unsubstantiated rumors on its market feed. While this case is not centered around a rumor, one can see the efforts Hammerstone takes to alert and protect its subscribers when something out of the ordinary is brought to our attention.