Witness Hammerstone Markets In Action
CASE STUDY: $IBM (International Business Machines, Co.)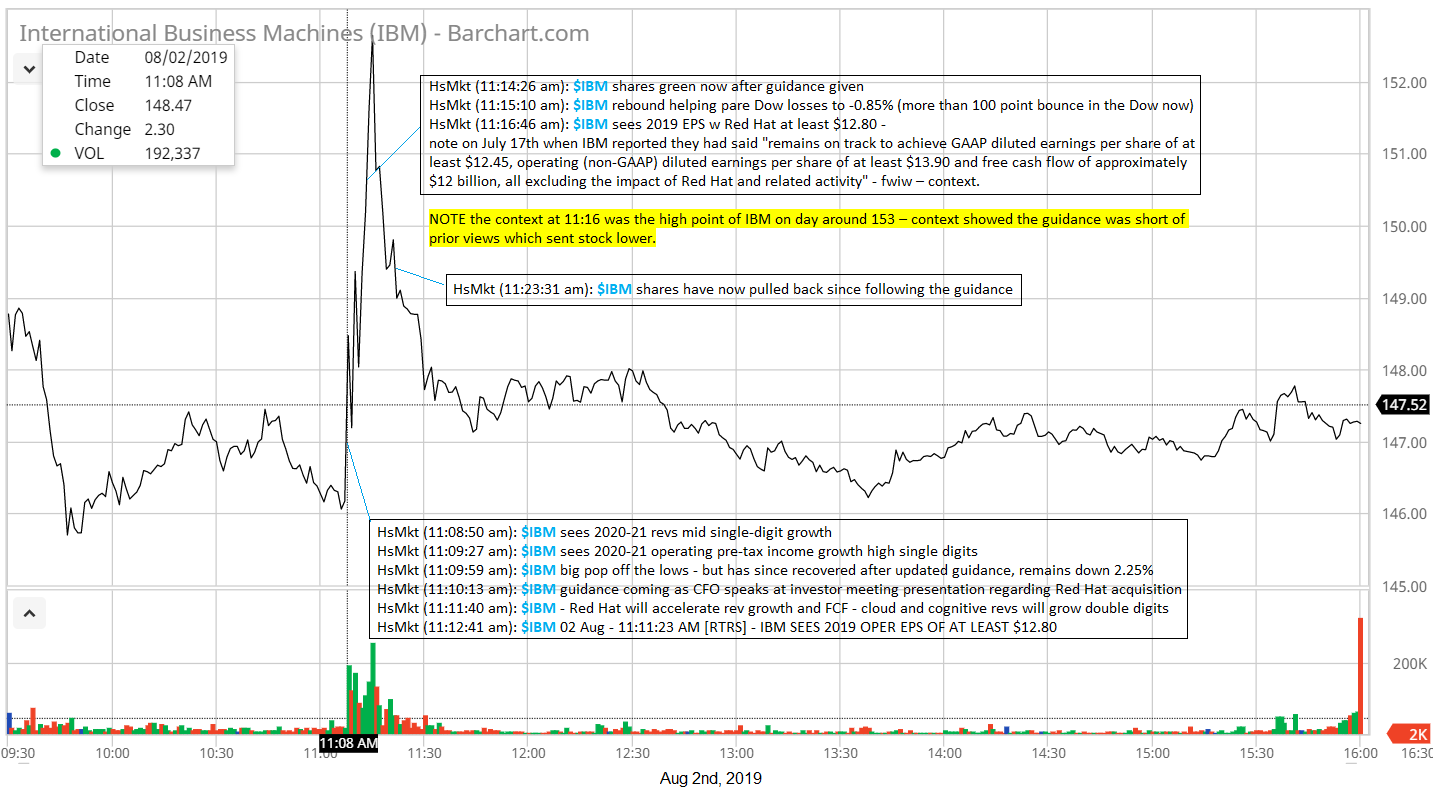 International Business Machines, Co. ($IBM)
Dow component IBM, hosting its investor meeting two weeks after reporting its quarterly earnings (7/17), provided guidance for 2021 for the first time of mid-single-digit revenue growth, which helped lift shares. However IBM also guided 2019 EPS of at least $12.80 with the Red Hat acquisition. While shares were still strong, Hammerstone noted that on its prior earnings call, IBM had said it "remains on track to achieve GAAP diluted earnings per share of at least $12.45, operating (non-GAAP) diluted earnings per share of at least $13.90 and free cash flow of approximately $12 billion, all excluding the impact of Red Hat and related activity". The company essentially lowered its guidance with the inclusion of the Red Hat deal, sending shares down from highs of $152 after initial comments back to the $147 level the remainder of the day. A good look that moved the stock over $5.00.
---

CASE STUDY: $WDAY (Workday, Inc.)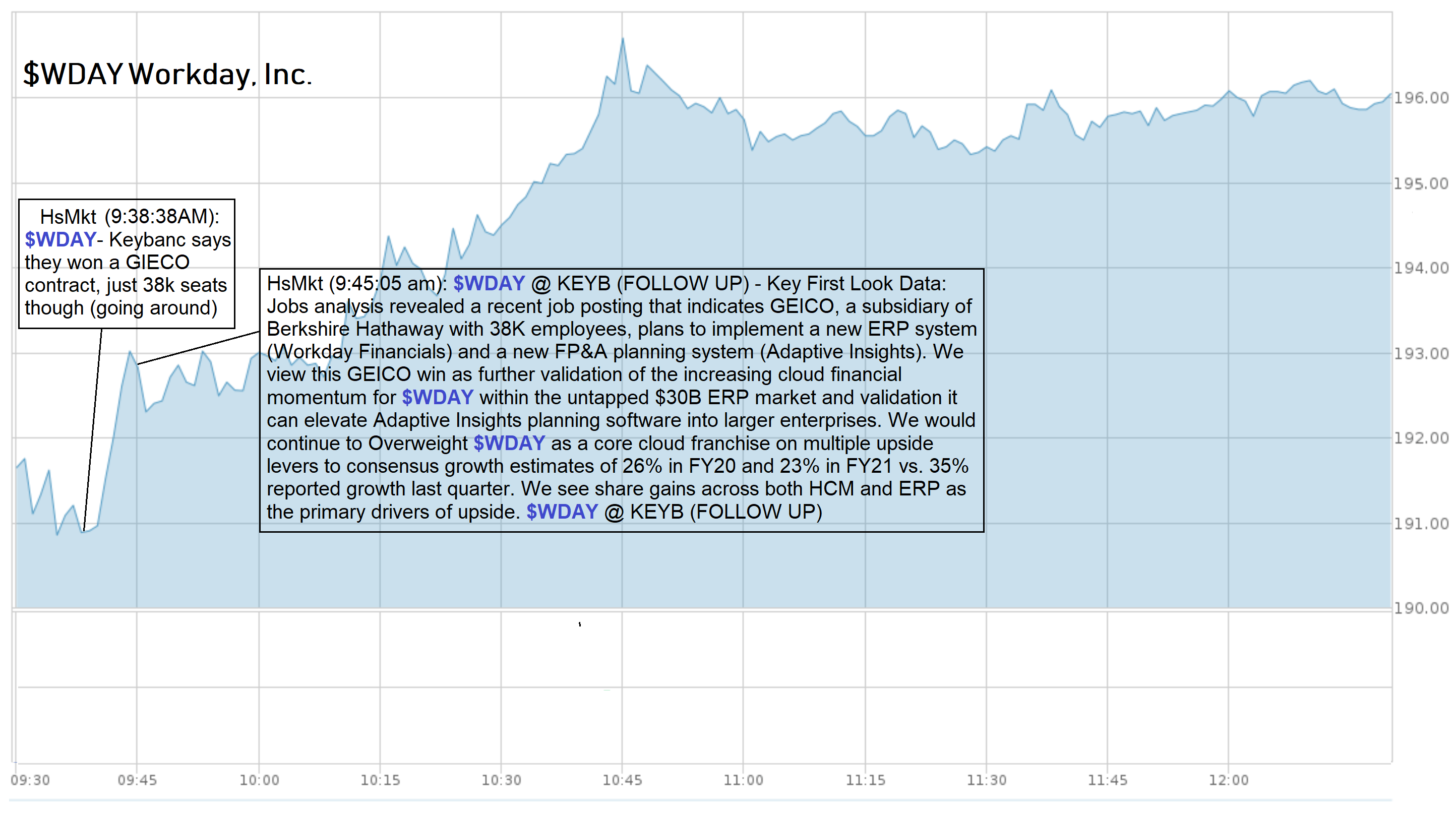 Workday, Inc. ($WDAY)
On April 10, 2019, after the markets opened, Keybanc Capital Markets published a note on, an ondemand financial management company, detailing how $WDAY had won a contract with Berkshire Hathaway's GEICO insurance division with the potential to spark big sales momentum in their cloud finance systems.
Through Hammerstone's many sources and contacts across Wall Street, we were alerted to the Piper $WDAY news immediately and disseminated it to our clients while $WDAY was still in negative territory, starting its rally seconds later. Additionally, Hammerstone was able to also provide its users with a summary of the $WDAY piece by Piper within 7 minutes. Later, at 10:45, Hammerstone noted that $WDAY had continued rallying, now up 2.6%, making new highs of the day (and, by chance, the actual high of the day), thus, making sure we kept our subscribers in the loop on a stock that was still moving significantly.
---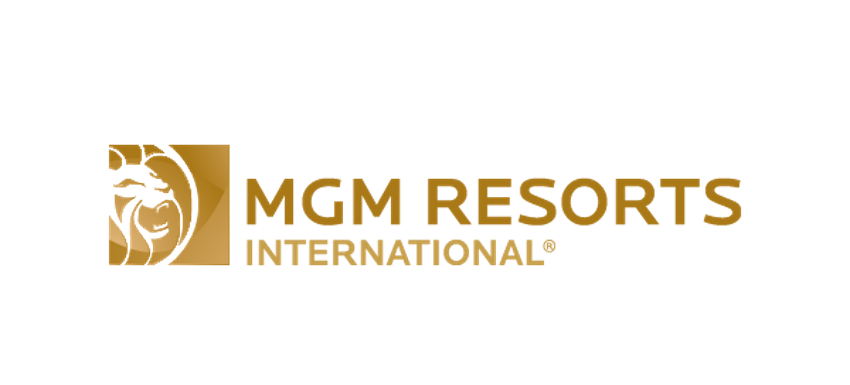 CASE STUDY: $MGM (MGM Resorts)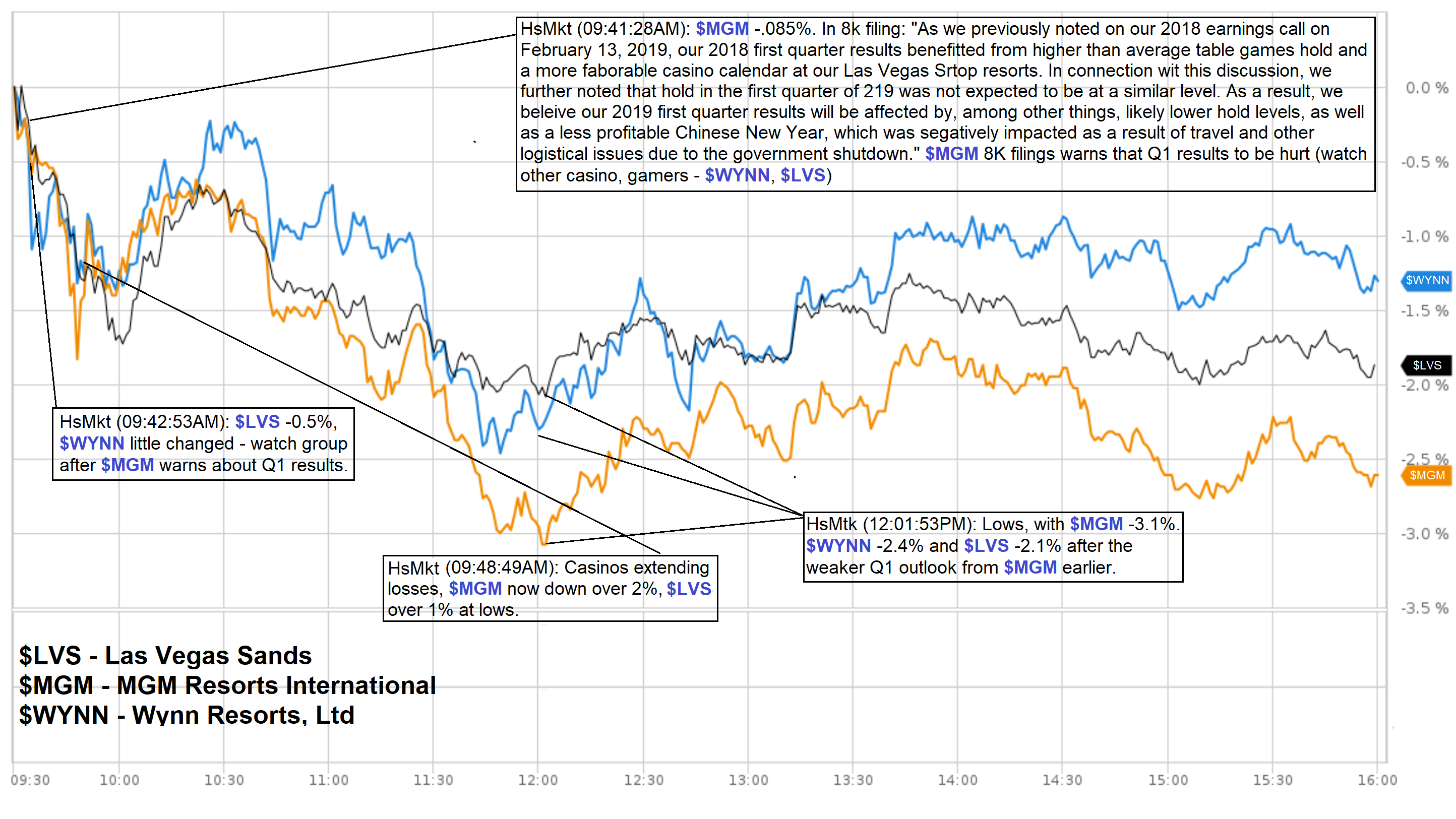 $MGM (MGM Resorts)On March 27, 2019 MGM Resorts International ($MGM) commenced an underwritten offering for $500 million of its senior notes. The offering's prospectus included a negative statement concerning $MGM's 1Q19 earnings. This information was also disclosed in a Form 8-K report filed with the SEC that morning.
At 9:41:28 am Hammerstone posted the $MGM Form 8-K's "forward looking" statement verbatim and added context by summarizing that "Q1 earnings will be hurt" and telling subscribers to watch MGM's competitors, Wynn Resorts Ltd. ($WYNN) and Las Vegas Sands Corp. ($LVS) additionally. Over the next 2 hours Hammerstone circles back to the 3 casino companies 3 times as they continued to sell off $MGM's weak Q1 outlook.
Hammerstone understands that a headline's repercussions do not end on its initial post. Financial news stories often continue to morph or grow on as the story is further disseminated across Wall Street and analysts, reporters or pundits comment on the story often affecting the price of the stock(s). If a story stock's price continues to move, Hammerstone's job is to make sure its subscribers are kept abreast of the fluctuations. We understand that new price levels can mean different things for different players. Whether they are starting/covering a short or initiating/exciting a long position, etc., Hammerstone will make sure our users do not miss a significant price point.